The NISR Team - Driven to Succeed
NISR's team is unsurpassed in Traffic Safety knowledge and education.
The NISR team members all have stories to tell. They've come from different backgrounds, hail from across the country, and possess a wealth of diverse talents. One common passion drives our efforts: Traffic Safety. Through interactive technologies, integrated communication networks, and decades of experience, the team works together as a flawless unit to produce outstanding results. The NISR team takes great pride in the important work we accomplish.
Meet Our Principal Staff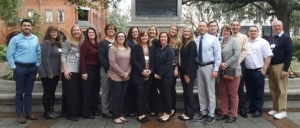 Kenneth D. Hackman - CEO and Project Advisor
John J. McDonough - President and FARS / CRSS Project Manager
Paula R. Tennant-Lantz - Assistant Vice President, Business Manager, HR Manager
David Hetzel - Assistant Vice President and FMCSA Project Manager
Kimberly McDonough - Instructional Systems Developer & Training Logistics Lead
Stephen McDonald - FARS / CRSS Senior Data Quality Control Analyst & Quality Control Team Lead
Melissa Sarro - FARS / CRSS Case Recoding Supervisor