Staff Profile: Joanna S. Reed
Assistant Project Manager and Instructor - .(JavaScript must be enabled to view this email address)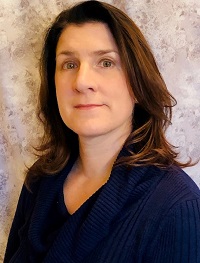 Joanna Reed is the Assistant Project Manager and Instructor, responsible for the coordination and reporting of task activities associated with linking training and system documentation to issue resolutions identified in the quality control, coding, and training programs with NHTSA. Prior to NISR, she served as the FARS Analyst, Traffic Records Program Manager, and Research Analyst for the State of Alaska Highway Safety Office. Joanna has also worked with federal statistics in the U.S. Department of Justice's Bureau of Justice Statistics in Washington, DC. She holds a Bachelor of Science in Criminal Justice, Summa Cum Laude, from the University of Baltimore in Baltimore, MD and a Bachelor of Arts in Theatre Production (Stage Management and Technical Direction) from Frostburg State University in Frostburg, MD.
Ms. Reed has significant training experience and has taught on the subjects of traffic records, proper crash reporting procedures, beginner FARS and CRSS concepts, the importance of data sharing, Data-Driven Approaches to Crime and Traffic Safety (DDACTS), how crash data is used and by whom, and other related subject matters. Her instruction experience includes the Alaska Law Enforcement Training Academy, Strategic Traffic Enforcement Partnership seminars, local and state law enforcement and transportation personnel, annual FARS/CRSS System-wide trainings, FARS/CRSS New Analyst and Coder Trainings, CRSS Sampling Trainings, invited guest lectures to various organizations and committees, and the International Forum on Traffic Records and Highway Information Systems.
As a Traffic Records and FARS Subject Matter Expert, Ms. Reed served as a Gubernatorial appointee to Montana's Traumatic Brain Injury Advisory Council (2018), she served on the Alaska Traffic Records Coordinating Committee, the Alaska Traffic and Criminal Software (TraCS) Committee, the Alaska Strategic Highway Safety Plan committee, the national 4th Edition MMUCC Expert Panel (2012), is a former elected At-Large Member of the Executive Board of the Association of Transportation Safety Information Professionals, and she organized and led the revision of the statewide Alaska motor vehicle crash report form (2011-2012). Ms. Reed has co-authored a NHTSA sponsored white paper entitled Linking Traffic Records Data Systems (Silverii and Reed 2013), and has served as a Traffic Records Assessment Assessor and Crash Module leader for the 2014 Tennessee Traffic Records Assessment.